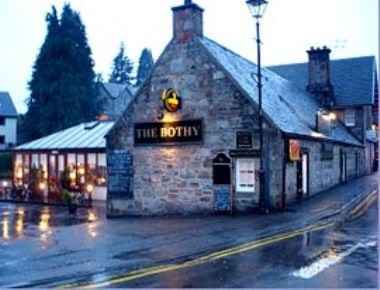 The Bothy Restaurant and Bar Fort Augustus
On the banks of the Caledonian Canal in a 200 year old cottage The Bothy is a traditional Scottish restaurant and bar. We take pride in our friendly service and freshly cooked quality food as well as fine wines, malt whiskies and local real ales

Canal Side Fort Augustus tel +44 (0)1320 366 710
---
Ice Cream
Canal Side Fort Augustus PH32 4AU
---
Caledonian Canal Fort Augustus
Linking the lochs of the Great Glen, the Caledonian Canal provided a safe route for naval and merchant ships to avoid the treacherous Pentland Firth and Cape Wrath.

Loch Lochy, Loch Oich, Loch Ness and Loch Dochfour provide much of the route along the Great Glen between Fort William and Inverness. Only relatively short artificial canals were required to link them together, with water supply guaranteed.

William Jessop and Thomas Telford head the list of engineers involved in the impressive project. At more than 50 yards (46m) long, its locks were huge by the standards of the time, with many of them arranged in staircases of interconnected locks. The massive eight-lock flight at Banavie, known as Neptune,s Staircase, is little short of breath-taking. The entire canal smacks of similar engineering feats on a grand scale.

There are 29 locks, 4 aqueducts, 8 road bridges and 2 rail bridges, along the length of the canal.

The canal was mechanised in the 1960s. Instead of using capstans and manpower, hydraulics are now used to operate locks and bridges. One original cast-iron bridge remains. Moy Bridge, near Gairlochy is still operated by hand, and the bridge keeper has to row across the canal to open both sides.

22 miles of the 60 mile waterway are man-made. The remaining 38 miles are made up of Loch Lochy, Loch Oich, Loch Ness and Loch Dochfour.

Work started in 1803, with over 1500 unskilled farmers digging the canal by hand. Opening in 1822, it still took another 25 years before the canal was fully complete.


Fort Augustus PH32 4BA
---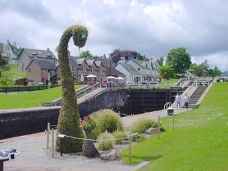 The Loch Ness Monster Nessie or Nessy
What ever you want to call her, The Loch Ness Monster, Nessy or Nessie. Your guaranteed a sighting on the canal banks in Fort Augustus.

Since the 5th century there have been stories of The Loch Ness Monster, fact or fiction?

It is said there isn,t enough food for her to live in Loch Ness,, yet millions of visitors arrive each year ;-)
Canal Side, Fort Augustus, Inverness-shire PH32 4BA
---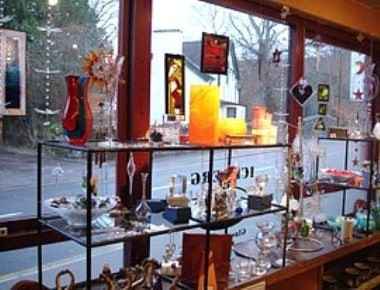 Iceberg Glass Blowing Studio Fort Augustus
Glass-blowing studio where you will see glass being heated, shaped and blown to form a range of contemporary jewellery, Scottish souvenirs, life-like cats, vases, hanging decorations and, of course, Nessies!
Canal Bank, Fort Augustus PH32 4BD
---
The Great Glen Way Fort Augustus
If you are walking the Great Glen Way and you have sent your baggage ahead.
Please let your accommodation providers know in advance, so they can make arrangements to receive it.

Day 1 - Fort William - Gairlochy
Day 2 - Gairlochy - Laggan Locks
Day 3 - Laggan Locks - Fort Augustus
Day 4 - Fort Augustus - Invermoriston or Alltsigh
Day 5 - Invermoriston or Alltsigh - Drumnadrochit
Day 6 - Drumnadrochit - Abriachan or Inverness
Day 7 - Abriachan - Inverness
---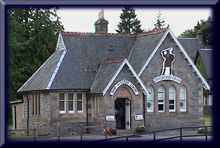 The Clansman Centre Fort Augustus
The Clansman Centre is open April to October, seven days a week, from 10am till 6pm.

Entering through the doors of a 19th century schoolhouse, you will take a step into the 17th. Besides a shop, which specializes in Celtic and locally produced crafts and includes a Scottish armoury, we have recreated the interior of a Highland turf house, where an authentically dressed clansman brings the past back to life. This dangerous looking character explains how families ate, lived and survived here in days of old, takes you through the clan system and local culture, demonstrates the Highland dress (all the mysteries of kilt, plaid and tartan) and teaches you the art of killing or maiming, using ancient weapons.
No boring history lesson, but an entertaining, interactive and informative experience.

The talks are not only available in English, but also in Dutch, French and German on request. It is advisable to book these in advance!

We have seating for about 50 spectators.

We welcome coach parties and even take in groups outside normal opening hours, if you notify us in time.
Fort Augustus PH32 4AU tel 01320 366 444
---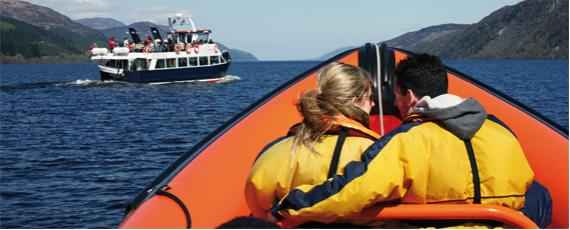 Cruise Loch Ness Fort Augustus
Our daily cruises depart from the unique location of the southern end of Loch Ness, allowing us privileged access to the most stunning scenery and wildlife the Loch has to offer!

Fort Augustus PH32 4AU tel: 01320 366 277
---
Kiltane Fort Augustus
Caledonian Canal Centre, Canal Side, Fort Augustus PH32 4BA
---
Former Site of The Lion Hunter Museum
Roualeyn George Gordon-Cumming 'The Lion Hunter'
Born on the 15th March 1820 in Scotland.
Author of A Hunter,s Life among Lions, Elephants and other Wild Animals
Roualeyn visited Africa between 1838 and 1843 several times before deciding on his career in hunting.

Between 1843 and 1848, He hunted chiefly in Bechuanaland and the valley of the Limpopo River.

After returning to the UK. His collection of hunting trophies was exhibited in London in 1851 at the Great Exhibition at Crystal Palace.

In 1858 Gordon-Cumming came to live in Fort Augustus within the former soldiers barracks at the fort. Beside the Caledonian Canal he exhibited his trophies which attracted many visitors, before his death on 24th March 1866.

A contemporary writer says of him In appearance he was remarkable for his great height and his massive symmetry of build. With handsome Highland features and the eye of an eagle, he was verily a king of men." He delighted in marked eccentricities of dress and might be seen parading Princes Street in Edinburgh in top-boots, a Gordon tartan kilt with plaid to match fastened by a large brooch, huge shirt frills, surmounted with a brass helmet as a head-piece and quantities of jewels, with silver fish-hooks in his ears. On wet days the whole was secured with a ponderous umbrella.

At Fort Augustus he used to meet the tourist steamers with a number of retainers similarly attired in grotesque costume, and, preceded by a magnificent goat, would lead the way to his museum. In warm weather he discarded this gorgeous raiment and went about clad only in a shirt and stockings. Sometimes his hair was allowed to hang in long ringlets down over his shoulders, and at other times was caught up in a lady,s net and fastened with numberless hairpins. Many are the anecdotes still current of his sayings and doings in the district which cannot be related here, but which remain a rich harvest and easily to be obtained for the humorist and the antiquarian.

His museum stood at the south-eastern corner of the canal bridge on the piece of ground lying between the road (A82) and the Catholic school (Clansman Centre).

When the Established Church was rebuilt some years ago, the roof of Roualeyn Gordon-Cumming,s museum was used to cover it, and the timbers that once enhanced the charms of the lion-hunter and his wild-beast show, now serve as a framework to an honest Presbyterian congregation, and form a setting to the Geneva gown.

Download A Hunter,s Life among Lions, Elephants and other Wild Animals
Fort Augustus PH32 4BD
---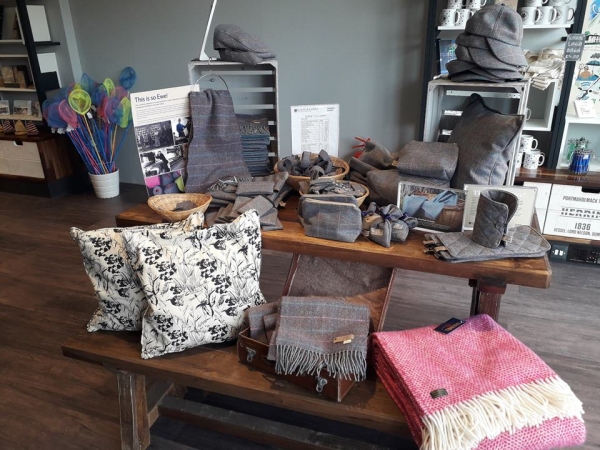 Caledonian Canal Centre
Coffee Shop, Information and Gift shop
Canal Side, Fort Augustus PH32 4BA
---
Fort Augustus Heritage Trail
This leaflet is designed to give you a look at some of the more hidden points of interest in the highland village of Fort Augustus. The walk is flat and should take approximately one hour at a leisurely pace, although we think you should take your time and relax in our beautiful surroundings.

---
Abbey Cottage
Fort Augustus
Inverness-shire
PH32 4BD Scotland
tel: 01320 310 524
E-mail: info@lochness.biz
Lochness.BIZ