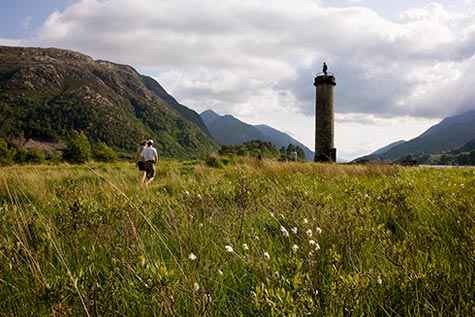 Glenfinnan Monument
Framed amid typically spectacular Highland scenery at the head of Loch Shiel with sweeping glens as a backdrop, stands this poignant monument to the final Jacobite Rising. The lone kilted highlander atop the 18m high column surveys the land, where the Highland way of life was soon to be cruelly extinguished.

A Visitor Centre tells the full story of the í45. Come along, take in the view and prepared to be stirred by this tumultuous chapter in Scotlandís history which could well have been a global turning point.

A new exhibition was unveiled at Glenfinnan Visitor Centre in April 2013
---
Glenfinnan Monument
Framed amid typically spectacular Highland scenery at the head of Loch Shiel with sweeping glens as a backdrop, stands this poignant monument to the final Jacobite Rising. The lone kilted highlander atop the 18m high column surveys the land, where the Highland way of life was soon to be cruelly extinguished.

A Visitor Centre tells the full story of the í45. Come along, take in the view and prepared to be stirred by this tumultuous chapter in Scotlandís history which could well have been a global turning point.
Fort William Tel. 0844 493 2221
---
Glenfinnan Viaduct
The 21-arch single track viaduct was one of the largest engineering undertakings using concrete without reinforcing when it was built by Sir Robert McAlpine.

Glenfinnan Viaduct forms part of the Mallaig extension of the West Highland Railway which was constructed between 1897 and 1901.

Built entirely of concrete, the viaduct consists of 21 arches, each spanning 15m and has a maximum height of 30m offering spectacular views down Lochaberís Loch Shiel.

According to myth, during construction a cart-horse and driver were killed when they fell into one of the piers while dumping their load, and were buried in the concrete. Recent research has shown that the incident happened at Loch Nan Uamh Viaduct, further down the line, near Arisaig, and the driver survived. Memorial plaques are at the latter viaduct and at Glenfinnan Station Museum.
Fort William Scotland
---
Abbey Cottage
Fort Augustus
Inverness-shire
PH32 4BD Scotland
tel: 01320 310 524
E-mail: info@lochness.biz
Lochness.BIZ