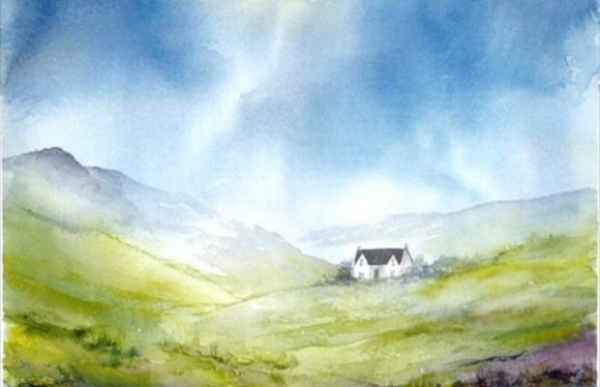 Highland Art Gallery and Studio
Original Paintings

Original watercolour paintings and limited edition prints by acclaimed artist R J Rowell based in the central Highlands of Scotland

Ros teaches absolute beginners and gets them going painting in the chosen medium, as well as tutoring existing painters.

Oils acrylics and watercolour and beginners drawing.
---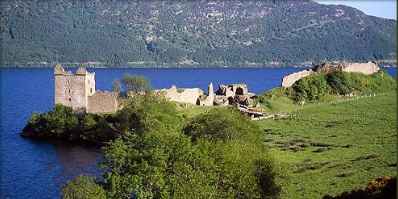 Urquhart Castle
The magnificently situated Urquhart Castle, on the banks of Loch Ness, remains an impressive stronghold despite its ruinous state.

Once one of Scotland's largest castles, Urquhart's remains include a tower house that commands splendid views of the famous loch and Great Glen.

Urquhart witnessed considerable conflict throughout its 500 years as a medieval fortress and its history from the 13th to 17th centuries was particularly bloody. Following Edward I's invasion, it fell into English hands and was then reclaimed and lost again. In the 14th century, it figured prominently in the Scots' struggle for independence and came under the control of Robert the Bruce after he became King of Scots.

In the 15th and 16th centuries, the castle and glen were frequently raided from the west by the ambitious MacDonald Lords of the Isles.

The castle's history and that of the noble families – Durward, MacDonald and Grant – who held it, is told in the exhibition and audio-visual display in the new visitor centre. The Centre features an outstanding array of medieval artefacts found at the castle.

Visitors can relax in the café and visit the shop with its local crafts. The visitor centre contains retail, interpretation area, audio-visual presentation and tearoom and toilets on one level. Stunning views of the loch can be obtained from visitor centre veranda.
Near Drumnadrochit IV63 6XJ
---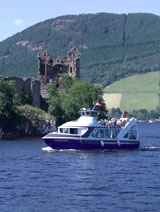 Jacobite Loch Ness Cruises
We are extremely proud of everything we have achieved since the company started in 1973, winning many awards and delighting over 100,000 customers every year.

We are able to provide award winning cruises tours and charters on Loch Ness because our whole focus is upon ensuring our customers enjoy the highest quality in every way, from start to finish, every month of the year.

Unbeatable choice
It is the culmination of years of experience, our vast knowledge of the Loch, a meticulous approach to safety and devising new ways to make the service even better.

No other Loch Ness tour company offers such a huge diversity of cruises and tours, lasting from one to six hours. Cruises leave from Inverness and also the Clansman Hotel Harbour, 9 miles outside Inverness on the A82. Some cruises include visits to other attractions, such as Urquhart Castle and the Loch Ness Exhibition Centre.

Exclusive charters are also available for weddings receptions, corporate hospitality and special events.
---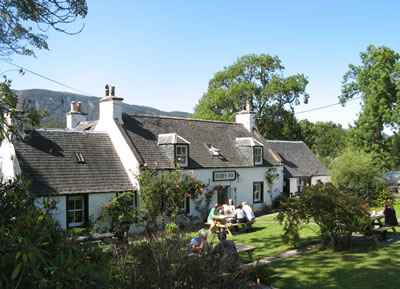 The Dores Inn
Set on the shore of Loch Ness, a family run restaurant and pub.

The Dores Inn is now serving great food, wine and ales in a warm and relaxing atmosphere and we look forward to welcoming you there.

To book a table please call Sue and her team at The Dores Inn – 01463 751203. Open 7 Days - all vintages welcome!

---
Abbey Cottage
Fort Augustus
Inverness-shire
PH32 4BD Scotland
tel: 01320 310 524
E-mail: info@lochness.biz
Lochness.BIZ